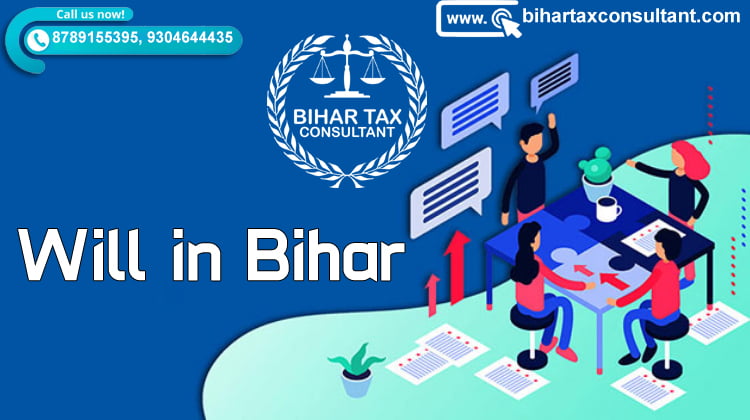 Will In Bihar by Bihar Tax Consultant
Everyone in this world have to die one day but the manner in which he/She wants to distributed his property whether its movable or immovable its totally depends upon him. Everyone need Peace in present and afterlife.  And Drafting A  WILL is a better idea.
Peaceful Life – Yaha Bhi , Waha Bhi
Through WILL he get the chance of peaceful afterlife as the fight to distribute the property of the decease become minimize , that"s why everyone need a WILL In Bihar to get the peace afterlife
We at Bihar Tax Consultant is a full fledged legal and taxation firm to make your life easier by drafting the instrument of Will
Will drafting is one the major art of Bihar Tax Consultant and we draft the With the expertise we have in our domain. And due to which we have the highest number of client approaching for will drafting
Call us today to make a Will In Bihar through Bihar Tax Consultant or draft a Will in Bihar through Bihar Tax Consultant.
We have the team of expert advocates and Will writers .
Wasiyat and Hiba
Will In Bihar
Under The Muslim Personal Law , A person who is a muslim can decide to distribute his properties through 2 Mediums
1. Wasiyat
2. Hiba
Through the Wasiyat Person can decide the distribution of Movable as Immovable Property. it can be written statement commonly known as Will or Wasiyat.
Wasiyat become operational after the death of the Person.
Hiba Under Muslim Law
Hiba under Muslim law is transfer inter vivos. It can be drafted for the distribution of Movable and Immovable properties of the Person concerned.The Primary limitation upon this can only be exercised by a MUSLIM.
The main principle of Hiba is that both the Donor and Donee must be alive , other conditions are
1. There must be a transfer
2. There must be express or implied acceptance by donee.
Not Much Headache , Contact us Today
Contact Today for best Solution . Bihar Tax Consultant have wide expertise of drafting the Will , Wasiyat and Hiba. We have team of experience advocates help you to draft best Will or wasiyat or hiba according to your faith
Know More on Social Media
https://www.facebook.com/bihartax
https://www.linkedin.com/in/bihar-tax-consultant-317426232/
https://www.youtube.com/channel/
More Reads here
https://bihartaxconsultant.com/hiba-in-bihar/